1. What size should my dog's bed be?
The size of your dog will help determine the size of their bed. It's important to get the right sized bed as this can make a big difference to your dog's warmth and comfort. A bed that's too small may be cramped and uncomfortable so if your dog is in-between sizes or still growing, we recommend sizing up. Read our handy guide below to find out how big your dog's bed should be:
Measure your pooch from the tip of the nose to the tail. This will tell you the length of the bed your dog needs.
Then measure from their shoulder to the floor. This measurement will tell you how wide the bed should be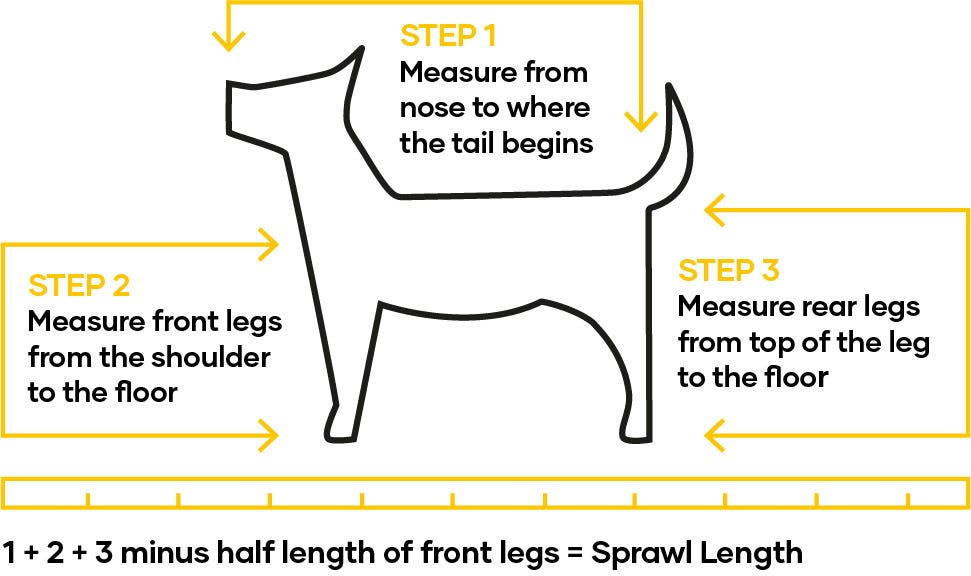 2. Does my dog have any special needs a bed can support?
It's important to consider your dog's unique health needs as a quality bed can make a big difference to their levels of comfort. Does your dog have arthritis or require extra joint support? Orthopaedic beds are designed specifically with this in mind. Many orthopaedic beds feature a high-density memory foam mattress which is ideal for dogs that require a little extra support for their joints, muscles and spine as the memory foam moulds to their body to ease aches and pains. Thermal beds can also help improve circulation, provide extra warmth and provide some relief for arthritis symptoms.
If you have an older dog, you may want to look for dedicated senior dog beds with memory foam that are lower to the ground so they can easily get in and out of bed. Senior pooches that may experience some levels of incontinence can also benefit from a water-resistant bed for easy clean-up.
Long-haired dogs and those built for colder climates like huskies can be prone to overheating in warmer months. It's important to provide a bed that provides plenty of ventilation and air flow so they can stay cool and better regulate their body temperature during their sleep. For these types of dogs, we recommend a raised bed for better air circulation.
3. Your dog's sleeping position
Is your dog a sprawler or a curler? The position your dog prefers to sleep in will help determine the shape and kind of bed they'll like best.
If your dog loves curling up into a snuggly ball or burrowing into soft bedding, a bolster or basket bed may be the best choice for them. Bolster or basket beds have slightly raised sides that your dog can nuzzle up against for warmth as they dream the night away. The raised sides also provide a little headrest for them to prop their head against if they prefer.
If your dog loves sprawling out while they sleep, a cushion, pillow or mattress style bed will be a better match. These types of beds don't have any raised sides so they give your dog more freedom to stretch out.
4. Where does your dog sleep?
Does your dog sleep indoors, outdoors or both? Dogs that sleep outdoors can benefit from outdoor dog beds that are water resistant and UV resistant. These beds are often more durable, are easy to clean and can last them all the seasons.

Raised beds are also a great option for outdoor dogs as they are sturdy and easy to clean. The raised sleeping platforms are made from a durable fabric like hessian or shade-cloth which means they don't hold as much dust or dirt as plush bedding materials. Some are also treated with a "flea-free finish" to prevent any nasties laying eggs or nesting on your pooch's bed.
Other snooze solutions
Making sure your dog stays warm and snuggly during the colder months is important to help them sleep through the night. Consider solutions like heating pads, blankets and plush toys to provide that extra bit of warmth for your best friend.

Shop all